I'm always looking for creative ways to help our members promote their music. And in making this a constant quest, one idea I've arrived at is what I'm here to tell you about today. Neworleansmusicians.com has established accounts on nine streaming platforms, each with public playlists searchable by the platform's users. There are 16 playlists in all, on every account, to correspond with the 16 genres on our site. When you join NOM we search for your material on these platforms and add it to the playlists on our accounts. The plays, credits, and payments all forward back to you. You are, of course, free to set up your own accounts on these platforms. In fact, we encourage that. Our program works in congruence with your presence in these places. In other words, whatever streaming platform you're on, we'll find and add you when you sign up with us on Neworleansmusicians.com.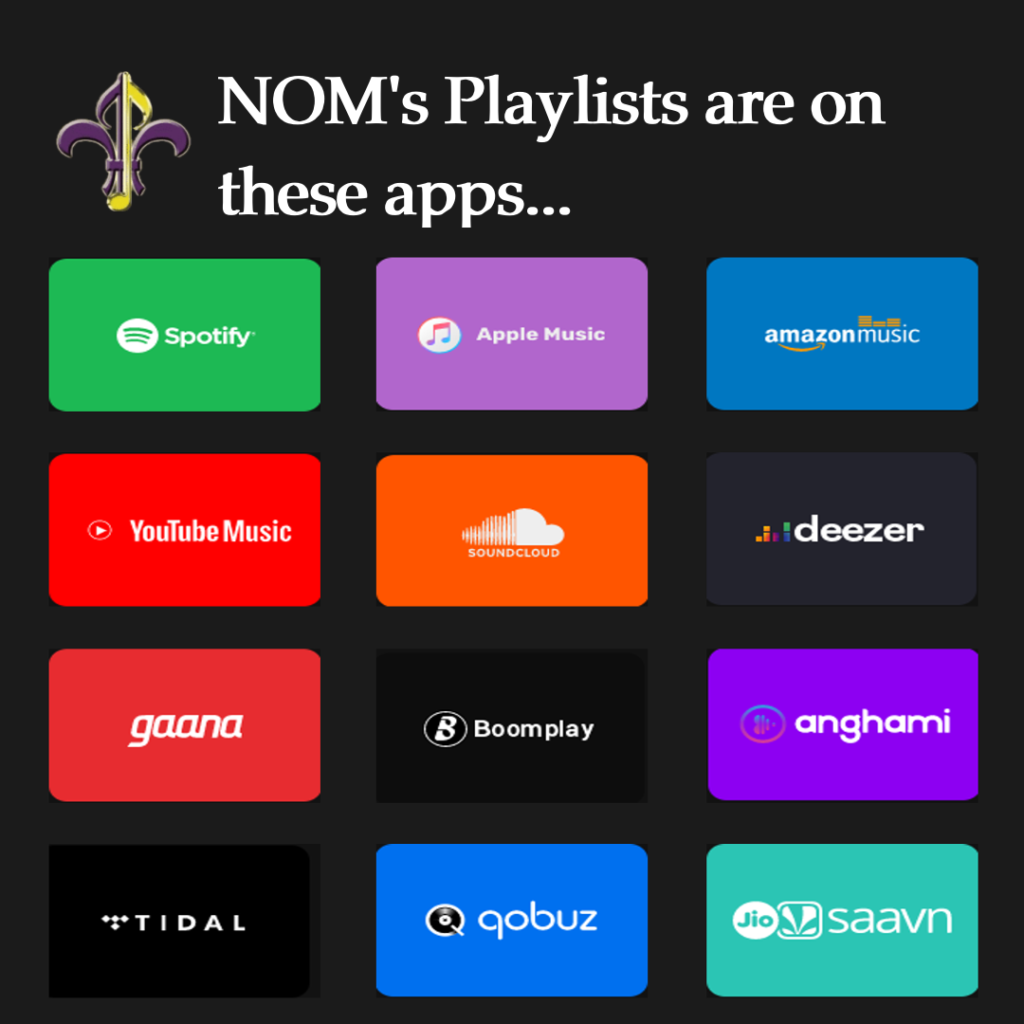 Spotify – 365 million monthly users
Apple Music – 78 million subscribers
Youtube music – 50 million subscribers
Amazon – 48.1 million monthly users
Tidal – 3 million subscribers
Deezer – 16 million monthly users
Soundcloud – 175 million monthly users
Qobuz – 200,000 subscribers
Anghami – 70 million users
Gaana – 185 million monthly users
JioSaavn – 100 million monthly users
Boomplay – 60 million monthly users
So, what's the "ten" in "Platform Status 10"? Well, in another article I mentioned Reverbnation as the type of place we differentiated ourselves from, being that unlike them we only serve Louisiana musicians. So, it may seem a bit ironic that I mention them now in this light. But any way that we can push our artists is game in my opinion. So, when you join our site and upload music to your profile, we can add it to our Reverbnation account playlist. This account is also searchable which will allow your work more plays.
That's it kids! I can't promise you the world. But with Neworleansmusicians.com I can promise you creative promotional tactics from a reputable resource and a trusted brand. As Louisiana bands, I hope to see you sign on with us and elevate your streaming platform status to ten!
Author: David Trahan
Neworleansmusicians.com Podcast can be found on these platforms.