I caught back up with Levi Clark (Misled, Southern Brutality, 1016) after hearing about several new developments with his new band, 1016. You may remember him from our previous interview earlier this year. As it turns out, what I had been hearing was true. Things were falling apart, things were being rebuilt, and the promise of his long-awaited EP was back under the microscope. In this visit, we took apart the constructs, the destructs, and the changes in scope that occurred as a result. And I think you'll find the new developments intriguing and the ongoing project showing more promise.
Now, I know Levi personally. And if I had to name him in a nutshell, I'd say he's a beautiful tragedy. "Tragedy" in the cinematic sense, where the viewer follows the main character through several hardships, some of them self-imposed. He's the kind of person that will give you the shirt off his back, and doesn't conceal his own flaws. Which makes him beautiful in my eyes. And though at times in valleys, he is persistent in his pursuit of the mountain top. During the first interview earlier this year, I got to hear a demo of an exciting new single, Gettysburg. This song was inspired by time Levi spent cleaning and reconstructing the tomb of a soldier from the Civil War. Happening upon a small booklet inside the structure, he was able to craft a song from words on the pages of this long-since forgotten soldier's diary. On that demo, Tiger Agnelly sang vocals and Brian Ardoyne (Dang Bruh Y?, Blackwater Canal) was on drums. Since that time, both were now out of the picture. A fact for which Levi took blame. "By this time my friends probably think they are looking at my delusion. But it's not my delusion. But I'm going to go a little bit back in time. I fucked up. I had two of the greatest musicians I ever could've had the chance of working with. Tiger Agnelly and Brian Ordoyne. Brian was our drummer. Still my brother, still my best friend. Tiger, incredible singer. But yours truly, I'm human, and I have a pattern of fucking up. It is what it is. And I apologize for it. So, the band all but dissolved."
Next on the chopping block came their singer, Ms. Jennifer Leech. Though they were revealed reluctantly, creative differences became obvious between her and Levi. And in the end, she too was out. Last came Trey Heflin (Genocide). Through a series of… we'll just call them "mishaps" that occurred on a short tour with Southern Brutality among other things, Trey found himself on the other side of the stage from what was left of 1016. Jamie Clouatre (13 Below, Cut Throat), the bassist for 1016, is still on board and aside from Levi is the only remaining original member. And as if I had to say it, that about does it for the "destruct" portion of the tour.
Now, onto a more positive aspect of this business called show! The "construct" began with vocals. Levi wouldn't name the new singer outright. Apparently, she has a sibling that is an accomplished singer, musician, and performing artist and wishes to remain anonymous until 1016's EP release performance. But this person has a background in opera. And to hear Levi tell it, during practice she pulled a vocal range out of her diaphragm which resembled that of Ella Fitzgerald and stopped the drummer mid-stroke. Often times, when a director writes a part in a movie, they write the part with a certain actor in mind. Likewise, recognizing the sharp contrast between his previous singer and the new one, Levi has gone back over some of his songs and rewritten them in order to showcase the new singer's style and capability. "She and I would converse over the phone and she would ask me to give her a backstory about the songs; about the mood. I know where she's at, and she knows where I'm at. Now we're working. But she says she's not much of a lyricist. So, I'm going to draft out lyrics of what the song should be saying. And she can put it in her own words. We'll just take it from there. And that's called collaboration."
Hailing from Kennabra (Kenner, La. to those out the loop) William Shiver slid into place as the new drummer for 1016. His past bands include Execution, and Suture. And he also did a little bit of work in projects for bands Guilt Trip and Gutter Sludge. He's spent most of his music career dwelling in heavy, technical death metal bands, with a little bit of doom and sludge metal peppered in between. And he feels as though 1016's southern blues emphasis will be a nice change. One thing about him that will definitely not go unnoticed is his mammoth drum set. I couldn't begin to aptly describe this thing… no one could. I had to include a picture of it below to stand in for my lack of descriptives. Personally, I can't wait to see this fella bang something out on this monstrosity! And for it, 1016 will become an interesting dynamic. Because Levi is currently the drummer for another band he is in, Southern Brutality. We should be hearing this thing smash and crash soon, as their single is slated for August of this year (2022). And Levi is aiming for an EP release after Mardi Gras the following year.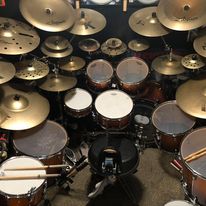 And now for the third and final leg of our tour kiddies, the changes in scope! Now you might ask, huh? What's left? We broke the whole thing apart and rebuilt it. Well, in the process, we brought in a drastically differing vocal element. While all of this was occurring, Levi was still writing. A change in singers further changed the direction of this process as we discussed earlier. But Levi also added other tools to his box. One of which was Martin Felix. Now we have all seen several different versions of the band supporter. Someone wears your T-shirt. Someone else might help you sell tickets for your next show. And so on. But Martin is a bit of a music scene anomaly. You see, Martin is a 65-year-old staunch local heavy metal music scene supporter. And in his capacity as both a scene supporter and a personal friend, he upped the studio cash to get Levi and 1016 further down the road to EP success. When asked about Levi and this generous contribution, he had this to say. "Brother… I've enjoyed seeing him on drums. I've enjoyed seeing him with Southern Brutality, Misled, Cain, and jamming with Twelve Years Driven. I've enjoyed seeing him learn the guitar and seeing him bust his ass for the desire of his dream." For Levi, the arrival of good fortune has been accompanied by the rigors of a prescribed deadline. To squander such opportunity, in his own eyes, is to do the unthinkable. So, through disagreements, differences, and fall-outs, he has pressed on.
We've all had these experiences in life. So, I realize some, at this point, may wonder what is so notable about his struggles; notable enough to base an article on. And I'll confidently say it's the result that lies in waiting. I heard the unreleased demo for one of his singles, Gettysburg. And I can't help but praise him for not only the body of work, but for the article from which the concept was born; a dead man's lament before days of battle. Levi is no stranger to the sentiment of historical piety. To the contrary, it's in his veins. When speaking on the blues and its heritage, he frequently draws attention to Robert Johnson. If you don't know who that is, it's ok. It'll be our little secret. Just tuck this in your back pocket. Robert Johnson was one of the most influential songwriters and blues musicians to have ever strummed six strings. Back in the 30's, he sat for two recording sessions, producing twenty-nine songs. With only that and three known photographs, this title of "most influential" has been affirmed by countless blues and rock gods over the past seven decades. So, yeah, now you know who Robert Johnson is.
Levi paired his love for Robert Johnson with his own strange twist on the song Hell Hound. When asked about this particular song, Levi had this to say. "So, Robert says, 'You gotta keep movin on. You gotta keep movin on', right? The dog will be like, 'so you thought you could keep moving on.' I'm writing from the hound's perspective." For this and other tracks included on the EP, Levi chose Last Exit Studios in Hollygrove. It's owned by Eric Reed, drummer for Dead Machine Theory. Levi added, "I know Duane Simoneaux (OCD Recordings) is probably reading this saying 'you should have come to me!' But Duane and Eric are two different breeds. When I'm doing my drums, I have to go to Duane. I have to. Duane knows my drumming style. But Duane as a producer, he wreaks havoc on guitars. And I'm not that guy. We're bluesed out. He is a guitarist. And as a guitarist Duane would intimidate me more." (Neworleansmusicians.com actually did an interview on Duane and OCD recently. You can get a feel for what Levi's talking about in that article on our blog page.) Levi also cites the studio's location as an inspiration in itself. "It's right where it needs to be. It's in a home in Hollygrove, one of the roughest neighborhoods in the city. It's in a neighborhood that just exudes the blues man's energy. And that's what I'm going for." Ever the altruist, his quest to honor the forefathers of the blues has led him through some interesting doors. For one song, he implemented the use of what others might rightfully call junk. "It's called 1016 the Blues Child. We set up the mics like cans; Like Robert Johnson singing through a can. And I literally went in there with a guitar with a cracked neck. You couldn't tune it worth a shit. The strings were old. I drop tuned it and it just came out. It just had that guttural feel to it." In knowing Levi, one could easily tell that he absolutely lives for music. Before being laid to rest in a pine box, Johnson's final words were, "I pray that my redeemer will come and take me from my grave." And though our old friend Martin Felix may not have changed the scope of this 1016 project, he may have changed Levi's destination.
Author: David Trahan
Neworleansmusicians.com Podcast can be found on these platforms.