Vick reached out to me about an album review. What followed was representative of his caliber as a musician and his acumen as a professional one. He furnished me with a private link to his upcoming release (in the states. This was released in Europe February 17th of this year), a press kit, and his personal bio. This is what any music professional wants to see and every musician should have. And what backs all of this up is a couple of seasoned veterans that could hold court with the best without missing a beat. While that may sound poetic, it's one-hundred percent true. That being said, I hope after this read many of you click one of the links below leading to Vick and Reuben and give it a like, share, or follow. These are a few of the currencies that musicians deal in which cost us nothing to pay forward. As for our guy who reached out, Vick Lecar is originally from Chile and lists some of his influences as being Jimi Hendrix, Terry Kath, Ritchie Blackmore, Jimmy Page, Alvin Lee, Paco De Lucia, and Santana. That being said, let us peruse the matter at hand, Gallus Rex.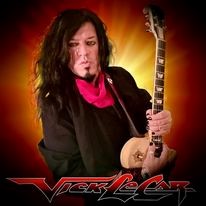 "Riding High"
This first track opens with a sassy blues rock riff reminding you of something Led Zeppelin would've done. Then in comes a guy by the name of Reuben Williams on vocals, "Hold me momma, never let me go". He's got a big voice with just enough grit to spice up the song notes. He can hit those high notes with no problem. The next hammer blow to drive this nail further is a Hammond organ which carries us through the bridge and on to accompany one of his dynamite guitar solos. From lyrics, to composition, to change-ups and solos… It's clean work overall and my head is bobbing.
"When the Rain Comes"
It could be my personal affinity for the rock god known as Led Zeppelin, but I am taken back to his influence into this second track. This time it's by way of Bron-Yr-Aur-esque guitar work married with Reuben's clean, reverberated vocals. "We come undone when it rains", he says, going further to touch on the sentimental good and bad around us. And I might add here that his choice of lyrics isn't cheesy or over-illustrative. This is not contrived gibberish. Rather, it is clever and well thought word play. Back-up vocals move in to sing along, and the beat begins. He speaks with a John Cougar Mellencamp style of welcomed, reliable, and traditional hometown characteristics. Then the notes drop down a few and electric guitars kick in for a reinforcing bridge to another impeccable guitar solo; nicely done! He brings us back to electric acoustic. I'd like to point out here that this song has an unmistakable mass appeal. Some major brand is bound to license this one for a commercial! I'm going to say Chevy. But that's just because I'm a Chevy Man.
"Dead on the Inside"
Now, this track opens with a harmonica groove. I love these! For those of us familiar, it hearkens the wonderful tune "If you Wanna Get to Heaven" by the Ozark Mountain Daredevils. Then bam! Electric power chords command us forth into a crash followed by some movin' groovin' tom work with an electric acoustic guitar saying go-go-go! Reuben's voice is so solid here. The grit is eased a bit which is proper at this time. This serves evident of his voice control and belongs here at this moment. Then in comes that electric guitar and off they go! "I'm dead on the inside" is Reuben's dismal proclamation. Luckily, his guitar isn't and she lets us all know it! The band plays a while on this field that we're all ready to kick some ass on. There's a ride bell ringing next along with a great phasered guitar solo. Again, when his vocals return you can clearly tell he lives comfortably in the high notes. And his vocals rest atop a full ensemble beautifully. The song culminates in the drums, organ, and guitars all going at it Rambo style to send us off with a rowdy finale.
"If Heaven Takes You First"
"Don't say you're sorry. Don't say goodbye" is Reuben's delicate message, accompanied by a strumming electric acoustic piece. His voice takes up residence in this and becomes an instrument of its own. This is a somber tune touching on his unwillingness to face the future without someone while feeling the sting of a dying love. The drums kick in with just a closed high hat keeping time and a side stick. A pronounced snare ushers us into the electrifying expansion of the song. An awesome electric solo ensues. Again, these solos are immaculate. They're not cumbersome or crowding the soundscape. Also, the drums thus far, which are so so terribly important to congeal the song, are sanitary and on time. That sounds so sterile. But the comment is directed toward the concept that whatever can be deemed unnecessary must be stripped from the final cut for a cleaner sounding end product. There's never any fat to trim when it comes to the drumming; on any of these songs. And I applaud the work. "One more time I wanna look into your eyes. I hate that I love you. Please don't say goodbye". Excellent. This is quality work.
"My Guitar and I"
Another arrant lead guitar intro greets us, and is repeated while accompanied by rhythm guitar. We are then addressed by the vocal master of ceremonies himself, Reuben Williams. "Fascinated by your fire baby. You're a cool child in the desert sky." Come on man! Write that down and you'll be beating the females off of you! Providing us with the sand that sometimes soothes, we inherently have the urge to listen to what he has to say. This track is a slow styled, laid-back groove about his love affair with his guitar. Lots of visual and ethereal metaphors. You'll find another groovy guitar solo next that the organ keeps aloft. Oh, how I love a smartly placed Hammond organ. It's like dreads (hear me out). It took time to come up with that instrument's sound. And you just feel that its origins far precede anything you've ever known. I'm sure his guitar was blushing after it heard this song.
Gallus Rex Album on Spotify: https://open.spotify.com/artist/05go2fx5aRZWXQkq9Edqfp?si=0AP-kDCaTN-9LM2JGmV31w
Vic Lecar's FB: https://www.facebook.com/vick.lecar
Reuben Williams' FB: https://www.facebook.com/rueben.williams.9
Author: David Trahan